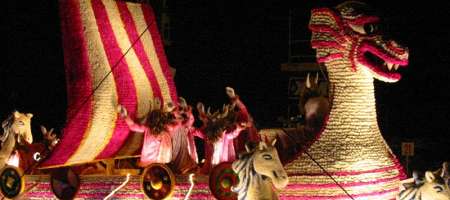 Battle of Flowers
by Dave Marshall on May 12th
The Battle of Flowers is a celebration that has become one of Jersey's main tourist attractions. First established in 1902, the second Thursday in August sees an annual re-enactment of the celebratory parade that took place for King Edward VII and Queen Alexandra coronation.

The successful event became an annual tradition was quickly established with a host of horse-drawn floats of flowers. Individual stems would be pulled from floats and thrown to the ladies in the crowd. Occasionally flowers would be thrown back - creating the concept of a 'battle.'

The 'Battle' has evolved over the years and survived for more than a century. While both World Wars put a temporary stop to the annual parade, it was revived briefly in 1926 and later in 1951. Businessmen viewed the parade as an opportunity to promote tourism to Jersey and capitalised on the 1952 Coronation as the Battle grew and became more popular.

The event's popularity reached its height during the flower-power '60s when crowds of 60,000 flocked to see the parade. In 1964 the 'battle' aspect was dropped and replaced with a competition on various floats, with several different categories including one for paper flowers, wild flowers, semi and fully floral. The floats themselves range in size from 20ft to 45ft. They compete for a Prix d'Honneur and prepare for weeks in advance. The parade is also supported by musical bands.

The Battle of Flowers museum, established in 1971, is filled with hordes of past memorabilia and animals such as the famous 40 flamingos, all made from Harestails and Marran grass.

Tickets to the Battle of Flowers are now available for the daytime parade on Thursday 13th August and for the moonlight parade on Friday 14th August 2009.
Welcome to Flower Experts
Written for you by flower experts, giving you tips and advice on everything flower related. Read interesting flower facts and news.
Send Christmas Flowers
Latest News