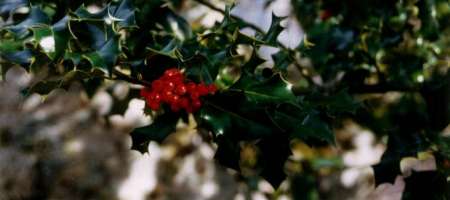 Holly berries and Christmas Wreaths
by Brian Nisbet on December 14th
Holly berries are very popular during the winter. They are used for decoration at Christmas and New Year celebrations both in and outside the home. Christmas Wreaths are also a delight to see at this time of year.

There are many different species of holly and both a male and female variety of the plant grow. There are twenty species in America, one hundred and twenty eight species in Asia and two hundred varieties in England.
England is home to the most species of holly and provides a good climate for this popular plant. There are both tall and dwarf trees with red, yellow and orange berries. The most popular holly is the traditional red berried kind.

Holly requires cross pollination to produce the red berries. The effect of the cross pollination is what enables the holly to produce the berries. If the cross pollination is spread widely and richly enough the holly trees will produce a large amount of berries.

Different varieties of holly trees grow better in different soil. While most holly grows best in acid soil it can flourish in other climates and adapts well. The evergreen varieties of holly are particularly good at adapting to different soils and climates. They can withstand temperatures to 15 degrees below zero. There are also deciduous varieties of this plant but they need the higher temperatures in which to survive. However, temperature does not affect the number of berries produced by holly. The acidic climate also has little effect. Indeed the number of berries produced is most affected by the cross pollination which is crucial to production, particularly for the traditional red berried trees.
Welcome to Flower Experts
Written for you by flower experts, giving you tips and advice on everything flower related. Read interesting flower facts and news.
Send Christmas Flowers
Latest News