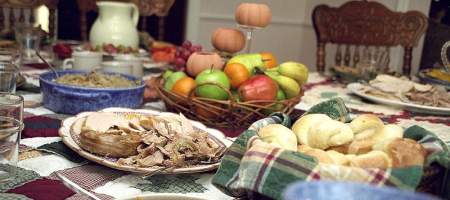 Thanksgiving
by Flower Experts Editor on November 16th
Thanksgiving is an American and Canadian holiday that celebrates the harvest and is an occasion for friends and family to give thanks for the harvest and express their gratitude for the elements of their lives that they are grateful for. Though the original date of Thanksgiving is contested, Americans celebrate the holiday on the fourth Thursday of November, while Canadians celebrate the holiday on the second Monday of October.

Thanksgiving is commonly celebrated with a traditional dinner that usually consists of a roast turkey with many accompaniments including cranberry sauce, candied yams, pumpkin pie, stuffing, dressing, gravy, sweet potatoes, mashed potatoes, dumplings. Accompaniments can vary across different regions, for example, with a traditional Southern American dinner usually including peas and carrots, cornbread, apple pie and pecan pie.

Thanksgiving is fondly termed 'turkey day' by many. The holiday is generally a time for family and friends to come together, express the elements of their life that they are grateful for and eat a hearty meal that can last for many hours. It is usually followed by a well deserved longlasting sleep.

Flowers also play an important role in Thanksgiving celebrations. Thanksgiving centrepieces can vary from region to region, but in general are in the motif of harvest colours. Warm oranges, yellows, reds and whites dominate the traditional Thanksgiving
centrepiece, which gives the Thanksgiving table a colourful harvest theme. In some households, the thanksgiving centrepiece is accompanied by a cornucopia, a cone that is filled with fruit and produce, to signify a healthy harvest.
Welcome to Flower Experts
Written for you by flower experts, giving you tips and advice on everything flower related. Read interesting flower facts and news.
Send Christmas Flowers
Latest News