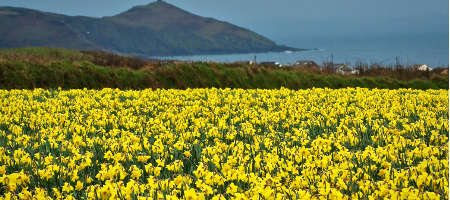 Easter Flowers, Daffodils
by Dave Marshall on April 5th
Giving daffodils at Easter time is a tradition throughout much of Europe. Other countries around the world have different flowers as traditional Easter symbols. The daffodil grows well in European climates and blooms from March through to the end of April. The Latin name for daffodils is narcissus, and there are at least 25 natural forms of the flower as well as a number of hybrids. The daffodil was originally introduced to Britain by the Romans who believed that the sap had healing powers. In the early 1600s daffodils began to be planted in domestic gardens. Spring flowering bulbs such as daffodils, lilies and tulips have become a symbol of the Resurrection throughout the Christian world. Today the narcissus symbolises renewal of life, and celebrates Easter as a festival of new hope.

The variety of types of narcissus is huge. The type of daffodil that we all recognise is the large headed bright yellow variety with large central trumpet shape. In addition,daffodils can be pure white, off white, pale lemon or even bordering on orange. The colouring of the central trumpet also varies. The size of flower head ranges from tiny half inch flowers on short stems to 5 inch blooms on 2 foot long stems. The smaller varieties of paper whites are multi headed on single stems and highly perfumed. The fragrance of many daffodils is quite distinctive, a sophisticated perfume not dissimilar to jasmine mixed with ylang ylang. As a cut flower, daffodils are long lasting and economical. As a garden or pot plant the blooms last substantially longer. Aside from its popularity as an Easter flower, the daffodil also symbolises friendship.
Welcome to Flower Experts
Written for you by flower experts, giving you tips and advice on everything flower related. Read interesting flower facts and news.
Send Christmas Flowers
Latest News