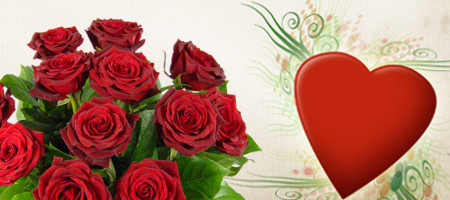 Ordering Online Valentine Flowers
by Flower Experts Editor on June 1st

Many people, especially men, it has to be said, have turned to online ordering of valentine flowers to spare themselves the task of dictating somewhat embarrassing messages to a florist.

Flowers are one product which is leading the way in online sales. In a Yahoo! user survey, flowers came out as the 5th most popular online shopping item after software, books, electronics and CDs. The survey showed that online shoppers in the UK spend an average of £45 on flowers.

The high take-up of flowers online is explained to some extent by the correlation between internet users and buyers which tend to be mainly men between the ages of 20 and 35 who earn over £20,000 per annum.
Two of the most important criteria for any product being marketed through websites are fulfilled by flowers as they are a highly visual product. When you are able to see a representation of the bouquet you are ordering, it is a big advantage over telephone ordering. The other advantage is that the delivery network already exists. People all over the world are now used to having flowers delivered to their door and the existing systems are tried and tested. If you are looking to order flowers, an established delivery system similar to the Clare Florist website is essential for a remote ordering service.

In the near future, some online flower retailers will be offering a service whereby, with a few simple clicks of your mouse, you will be able to design your own flower arrangement. The internet really has brought a whole new dimension to online sales of flowers.
Tags: florist, online, flowers, bouquet, valentine, clare florist
Welcome to Flower Experts
Written for you by flower experts, giving you tips and advice on everything flower related. Read interesting flower facts and news.
Send Christmas Flowers
Latest News