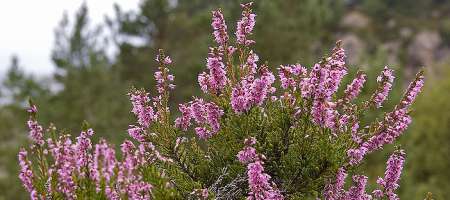 Flowers associated with Scotland
by Barry Marshall on June 26th
Heather and thistles are to Scottish culture what the shamrock is to Ireland. In particular, the thistle is hugely iconic to Scotland and is the country's national emblem. Indeed, the thistle, in all its prickly purple beauty, was made the emblem of Scotland under Alexander III in the 13th century. The first official use of the thistle as a royal symbol was in 1470, when King James III issued silver coins depicting the flower. Some seventy years later, King James V founded The Order of the Thistle, which is an order of chivalry pertaining exclusively to Scotland that is only second in precedence to England's Order of the Garter.

The thistle achieved its exalted position as the main symbol of Scotland based in part on legend. Indeed, according to tales that have been told for hundreds of years, the thistle played a crucial part in thwarting an invading band of Vikings (who had taken off their boots in order to creep up on their Scottish targets) after one unfortunate Norseman was said to have stepped on the flower. Upon shrieking out in pain, the Viking gave away the position of his army, all of whom were then allegedly slain soon after. Thus began the legend of the Scottish thistle. Nowadays, the thistle continues to be used as a symbol of guardianship, not least by Scotland's national rugby union team.

Finally, heather is the second most recognisable flower of Scotland. Renowned for its many practical uses, including rope making and thatching, heather has also been used over the years to treat various ailments such as colds. However, both heather and the thistle are now so heavily symbolic of Scotland that they are commonly used in wedding bouquets and various other floral arrangements that serve to signify the Scottish way of life.
Welcome to Flower Experts
Written for you by flower experts, giving you tips and advice on everything flower related. Read interesting flower facts and news.
Send Christmas Flowers
Latest News