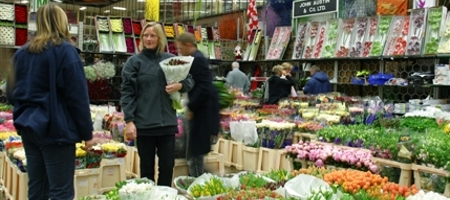 New Covent Garden Market
by Dave Marshall on July 10th
The New Covent Garden Market is one of the largest markets in the UK that specialises in fresh produce. The market supplies fresh fruit, vegatables, plants, flowers and many other items. It is London's leading market and supplies restaurants, florists, hotels and hospitals. Due to its central location in the capital, it provides jobs to nearly 3000 people. The market covers 56 acres and contains approximately 250 fruit, vegetable and flower companies. The market first opened on 11th November 1974 and got its name as it was transferred from the original location of Covent Garden and was created on the site of the Nine Elms Locomotive Works.
It is run by the New Covent Garden Market Authority which was set up in 1961. From that came the modernising and redevelopment of the administration of the market especially to the wholesale side. New Covent Garden Flower Market is the main wholesaler in London and stocks the widest range of flowers, plants and foliage.
There are over 50 companies situated in the market, providing so much choice and variety. It is also the largest fruit and vegetable market in the UK, and prides itself in supplying some of the largest restaurants, hotels and cafes as well as local market stalls. There are over 200 suppliers in the market that aim to offer the freshest and finest produce. Fresh cheese, fish, meat, fruit, vegetables, wine and much, much more can found in one place in the perfectly situated location.
Welcome to Flower Experts
Written for you by flower experts, giving you tips and advice on everything flower related. Read interesting flower facts and news.
Send Christmas Flowers
Latest News