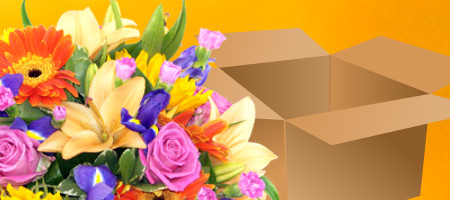 Flower Packing: The Importance of Good Packing
by Barry Marshall on April 6th
There are a variety of reasons for using packing. Packing supplies can be obtained for almost any packing needs imaginable. Businesses use different types of packaging materials for sending items such as cardboard, polystyrene, bubble wrap and wooden crates. Removal companies use packing supplies to move the property of their customers. Usually this involves thick, heavy cardboard which is surprisingly resilient. Physical protection is vital for expensive or delicate items. For example, objects enclosed in a package may require protection from shock, compression, vibration or temperature.

Using the wrong type or size of packing material may cause damage or breakage of goods, resulting in customer dissatisfaction and therefore loss of business. Before using packing supplies you need to think about the particular requirements of the items involved. For example, is the item fragile? Is the look of the packing important in some instances - possibly for advertising purposes? Perhaps special packing is needed, for example for specialist electrical items. There are many different types of packing. For example a distribution package or transport package is used to ship, store, and handle a product or inner packages. Packaging may be looked at in relation to the type of product being packaged: medical device packaging, over-the-counter drug packaging, retail food packaging, pharmaceutical packaging, etc.

Good packing is of great importance to a flower grower as he needs to make sure that the flowers do not arrive crushed or bruised. Similarly, when flowers are delivered to a recipient, beautiful packing plays a big part in the overall look of the arrangement.
Packing is an important part of our daily lives particularly for making purchases over the internet.
Welcome to Flower Experts
Written for you by flower experts, giving you tips and advice on everything flower related. Read interesting flower facts and news.
Send Christmas Flowers
Latest News