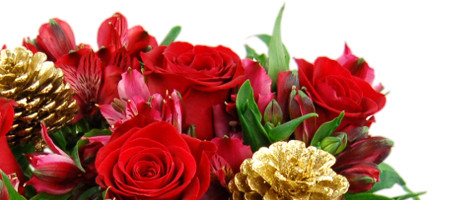 Alstroemeria in a Christmas Bouquet
by Brian Nisbet on December 19th
Alstroemeria are a hefty, long tentacled herbaceous perennial creating a mass of tall stems showing thinly spike-shaped leaves, with flashy horn-shaped blooms. They may also be known as 'Lily of the Incas'.
Alstroemeria are easy to look after being a low-maintenance flower and come in a variety of bright colours. The blooms are an ideal inclusion into bouquets, adding a fabulous blast of bright sparkle to any home. At it's peak, the majestic, erect plants can in some countries, reach up to 2 or 3 feet in height.
For the creative gardeners amongst you who wish to grow this flower at home and who may have been offered samples, it is important to remember that you should only divide Alstroemeria during spring, summer or Autumn. If it's a slightly older plant and beginning to appear dried out or squeezed then dig up the cluster and lever the roots into smaller bunches with each consisting of at least four to five roots. Plant these into a well drained soil area of your garden and make sure they are planted into a sunny area.
Well, enough of the technical details let's now look at today's flower complete, within a beautiful Christmas Bouquet!
Welcome to Flower Experts
Written for you by flower experts, giving you tips and advice on everything flower related. Read interesting flower facts and news.
Send Christmas Flowers
Latest News