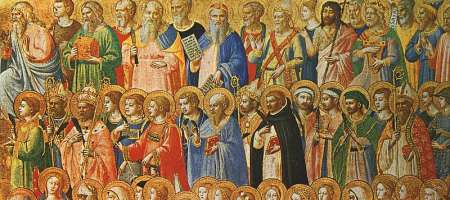 All Saints
by Flower Experts Editor on August 22nd
All Saints Day is an important day where the dead are celebrated and remembered. It follows Halloween on November 1st. It is a day of feasting and cut flowers. It stems from Anglican and Roman Catholic tradition where it is important to remember the former saints. It is now used to celebrate the deaths of relatives and loved ones as well as saints.

There is a variation of tradition worldwide but it is popular in Europe to make a day out of All Saints Day. It is traditional to go down to the cemetery and put flowers on the graves of loved ones. It is also quite common to picnic in the grounds. This happens in the Philippines for example where all the graves are adorned with fresh flowers. The kinds of flowers used are those traditional for putting on graves. As it is a celebration rather than a mourning of passing souls then more colourful flowers such as peonies, tulips and roses might be used as well as more respectful bouquets of white lilies.

All Saints Day is also known as 'All Souls Day' where flowers are traditionally bought for the 'bones'. Those who celebrate this day and give flowers to the 'bones', give lilies and roses. Common colours of flowers given include pink, orange, yellow and red.

While All Saints Day is less popular in the UK it is more widely celebrated in the rest of Europe and the US. However, it is not unusual in the UK to visit graves after Halloween and pay respects to the dead with roses or lilies.
Welcome to Flower Experts
Written for you by flower experts, giving you tips and advice on everything flower related. Read interesting flower facts and news.
Send Christmas Flowers
Latest News