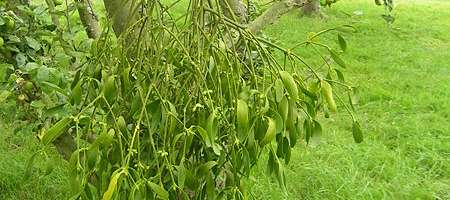 Mistletoe from England
by Flower Experts Editor on December 9th


Mistletoe in the UK is grown in East Devon, Yorkshire and is also common to Central and Southern England. However, the most concentrated growth of mistletoe in the UK is in the border towns between England and Wales. These towns produce mistletoe commercially and there is organised trade in Herefordshire, Gloucestershire, Shropshire, Worcestershire and Tenbury Wells.

While mistletoe is grown in its abundance in these towns by farmers who own large, old orchards its sale is largely local. This mistletoe tends to be of a higher quality with bigger berries and better colour than that which is imported from France. This is because these old orchards with trees of more than one hundred years old have provided a natural habitat for mistletoe to flourish. On the trees of these orchards flourish both male and female mistletoe although only female mistletoe is saleable as male mistletoe has no berries.

Traditionally the Herefordshire mistletoe is collected from local orchard owners and auctioned at the market in Tenby Wells. 99% of all mistletoe traded in this area of the UK is purchased from local suppliers. This is a longstanding tradition established in 1885.
While the market is now held at Little Hereford and mistletoe auctioned off the tradition remains. The mistletoe auction usually raises around £40,000 in mistletoe sales as local people bid on the most luxurious mistletoe with the most berries.

It is probably because the sale of mistletoe is still so strongly attached to local tradition (and also there is plenty of local demand) that it is not sold across the UK as it is considered far superior to the French variety.
Welcome to Flower Experts
Written for you by flower experts, giving you tips and advice on everything flower related. Read interesting flower facts and news.
Send Christmas Flowers
Latest News