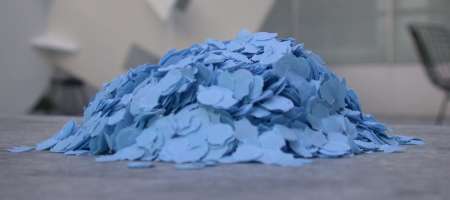 Confetti
by R Marshall on September 24th
The word 'Confetti' is thought to come from an Italian word used for the tradition of giving out almond sweets to guests at weddings. This was thought to ensure good luck, prosperity and fertility for the newly-wed couple. The throwing of confetti at weddings can be dated back to Pagan traditions, in which rice would be thrown over the newlyweds. Again, this was seen as a symbol of good luck and thought to increase the couple's fertility. In modern times rice has been fazed out over possible health fears for birds who, swooping down to eat the scattered grains, would end up suffering from swollen stomachs and potentially dying as a result.
Confetti trends seem to have come full circle. In times gone by, the bride and groom would be showered with petals and leaves, then came the advent of modern paper confetti and then metallic, plastic and glittery confetti. Throwing of rice was superseded by the more avian-friendly throwing of bird seed and, as many churches began to frown upon confetti in general due to the mess it made, more people turned towards natural sources and biodegradable Eco friendly confetti. One recent trend which has soared in popularity is using real flower petals. The petals (commonly rose petals, but many flowers are used and the colour range available is as extensive as nature itself!) are freeze dried during a special process which allows them to be stored and handled, but retain their biodegradable properties.

You may be surprised at the range of choices available for confetti! You can have personalised confetti, which is cut into the shapes of the bride and grooms initials. You can also have confetti in every possible colour imaginable! Confetti is also commonly used at weddings as a table decoration, to evoke the image of the happily married couple in a joyous shower of glittering flakes.
Welcome to Flower Experts
Written for you by flower experts, giving you tips and advice on everything flower related. Read interesting flower facts and news.
Send Christmas Flowers
Latest News