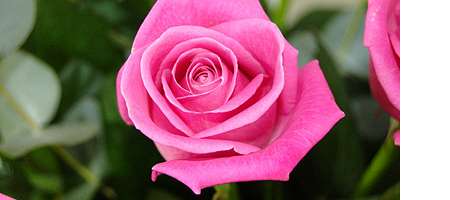 Meaning of the Pink Rose
by Barry Marshall on February 20th
Pink roses are one of the most common varieties of rose, as they are easily domestically grown in various climates and conditions. However, their ordinariness does not detract from their specialness as a gift.

The colour pink is synonymous with sweetness, kindness and elegance as well as poetic romance. In the form of the rose, pink is often used by lovers to represent a long-standing love in contrast to the passionate deep red of red roses. Different shades of pink also carry their own significance. Fuchsia pink flowers are fantastic for an outgoing personality or a very girly girl. Dark pink and mauve roses are symbolic of gratitude and are reminiscent of the 'old English garden' kinds of flowers, so perhaps are more appropriate for an older recipient. Light pink roses are associated with the Spring and are commonly placed with gypsophillia for a colourful spray of early bloom. Lighter pinks are also linked to expressions of sympathy and as gestures of goodwill.

As pink roses are so versatile in their meaning, pink roses are very popular with young romantics and older bloom lovers alike. Pink roses also smell soft and fragrant and are a lovely addition to a new house, or simply as a gesture of goodwill or affection. In today's world of exotic blooms and bold and bright colours, the pink rose still holds the unique position of representing elegance, affection and empathy as well as communicating thanks and admiration. Whether as a token for Mother's Day, gift to a new mother or simply a gesture of appreciation, the recipient of a posy of pink roses is sure to feel loved and special.
Tags: pink, rose, flowers, gypsophillia, mothers day, spring
Welcome to Flower Experts
Written for you by flower experts, giving you tips and advice on everything flower related. Read interesting flower facts and news.
Send Christmas Flowers
Latest News