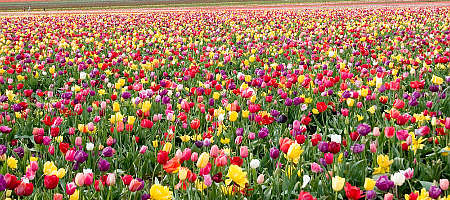 Tulip and other bulb flowers
by Robert-James Collingridge on April 7th
UK FLOWER PRODUCTION TULIPS AND OTHER BULB FLOWERS PART I.

European grown tulip bulbs were originally discovered in Turkey (nearly Europe!) where they found their way back into mainstream Europe in the baggage of interested aficionados who wanted to plant them and grow them in their home gardens, a kind of setting the standards in a "keeping up with the Schmidt's "syndrome. A Swiss visitor to a Bavarian garden noted one of the first recorded sightings of a tulip growing in Western Europe in the 1550's. They rapidly became a status symbol and in the first half of the 1600's there was an amazing "South Sea bubble" in the market price of certain varieties of bulbs, especially in Holland with peak prices of 5,500 guilders per bulb or the equivalent of 15 years salary of a skilled labourer. Even when Holland joined the euro, this century, it gives an equivalent cost of just under two thousand pounds per bulb.

So Holland became the home in the breeding and production of tulips, and they are the biggest producers of the bulbs and the cut flowers. Their season is almost all the year round, but production in late June, July and August is more a case of growers proving they can produce them and proving their skill and making a point!! They are after all, a Spring flower, and their main peak production is for Christmas and Valentines day, but especially for Easter, and Mother's day, both the UK's in March or April and the continental Mother's day which mainly falls on the second Sunday in May.

The tulip was really introduced by Dutch growers who moved to East Anglia and Lincolnshire to land, which was exactly the same as their homeland. The growing conditions were very similar and the crop became quickly established as a British favorite.

The main production, as mentioned, is centered in Lincolnshire, especially with the indoor production under glass. But the local landscape also lends itself to the outdoor production of flowers and bulbs. The outdoor season is necessarily short, and the products are there one day, but not the next!!

Although production is based in the East, there are or were smaller niche producers throughout the British Isles. Up until the 1970's one of the best producers of forced tulips came from Marks Tey in Essex with a marvelous quality and range of varieties for that time. There were other producers between there and East Anglia, and also some as far a field as the West Country and Scotland, mainly serving local niche markets.

Varieties of tulips are constantly being created to fill the seemingly endless passion for perfection (although the cynically inclined insist it is for ease of production and immunity from disease!) There are five "families" of tulips which lend themselves to commercial production, one of the largest being "Darwin" followed by "Triumph" the others being self explanatory, "Single early" "Double early" and "Single late."

A lot of the U.K. producers went out of business after the oil crisis of the 1970's, and the production has been falling since then. There are some producers supplying the traditional outlets of wholesale markets, but some of the biggest survivors are contract growing for supermarkets.

The history and current production of other bulb flowers is very similar. Lilies have become hugely popular in the last 30 years, again with production based in Holland. What originally started with the majesty and perfection of the Longiflorum (or Harissi) lily has expanded into other groups like Oriental and Asiatics which give a huge variety of colours, aromas and shapes. Most of this need to be grown under glass in a protected environment. The natural outdoor season is very short and difficult to control. One hot fine summer day and they are finished, one day of heavy rain and there is a similar result. But some Lincolnshire growers can produce Asiatic lilies for a good part of the summer, heating one crop under glass, growing the next one in unheated houses (so almost natural) then a crop outdoors or naturally and then back under glass for a "treated" crop for early autumn.

As in all recently hybridised variety explosions, the colours, perfumes, shapes and individual variety qualities are endlessly varied, giving a seemingly uncountable array of shapes and sizes. The only downside to lilies is the pollen on the stamens, which can stain fingers, clothes and fabrics. However, gently pulling these out of the flower before the powdered pollen becomes

Iris is another crop mainly produced in Holland, again all the year round. Although again, a spring producer, it can now be found at all times of the year, again especially at Christmas, Valentines and Mother's Day, and are a well established favourite. There used to be a large winter and spring production in the Channel Isles, notably Guernsey and Jersey. This has dwindled now to almost non existence, as the small family producers have been squeezed out by higher costs, and of course the necessity to burn oil for heating.

The varieties for commercial production are few, with the colour being predominantly blue with lesser production of white and yellow varieties. The garden "flag" iris cannot be produced commercially and remains as a glorious garden flower only.
Tags: christmas, channelisles, valentines, holland, lilies, wholesale, tulips, easter
Welcome to Flower Experts
Written for you by flower experts, giving you tips and advice on everything flower related. Read interesting flower facts and news.
Send Christmas Flowers
Latest News