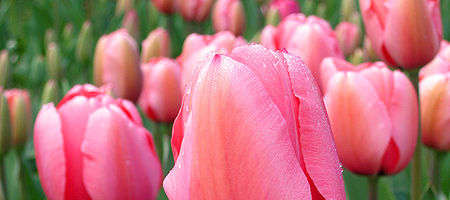 Tulips from Holland
by Brian Nisbet on June 11th
The symbol of Holland, the tulip, was first introduced to Holland in 1593. Originally, the name 'tulip' came from the Turkish word 'turban' as the flower was often worn as part of the traditional headdress. Almost half of Holland's 47,150 acres of flower farms are planted with tulip bulbs.
Millions of tulip bulbs are produced in Holland every year.
Two thirds are exported, mainly to the USA and to home gardeners around the world. The pretty plant is part of the lily family and there are hundreds of versions of the tulip.
Dutch tulip history started with a man called Carolus Clusius. He was well known for his work with medicinal herbs in Prague and Vienna. He came to Leiden in Holland, and became the head botanist of the botanical garden at the University of Leiden. Here, he planted the first tulips in Holland.
Tulips are still growing in the wild now, and can be found in many regions such as Spain, Italy, Portugal, Switzerland and France. There is thought to be almost 150 species of tulip growing wild.
The tulip grows best in its natural habitat which is mountainous terrain. It never got as far as the Netherlands, not even within 500 miles. They can be found covered in snow during the Winter months as this protects them from the cold at high elevations. As Holland is mainly situated below sea level and has a wet Winter, it is astonishing the Dutch should be so well known for growing tulips.
Welcome to Flower Experts
Written for you by flower experts, giving you tips and advice on everything flower related. Read interesting flower facts and news.
Send Christmas Flowers
Latest News