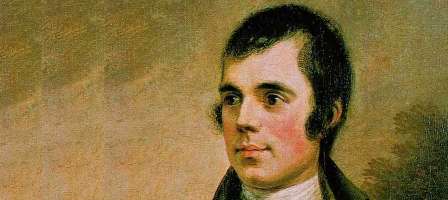 Burns Day Flowers
by Flower Experts Editor on January 9th
Burns Day is traditionally celebrated on the 25th January. It is celebrated in Scotland and by Scottish people throughout the world. Burns Day is held in honour of the birthday of Scotland's most famous bard (poet) Robert Burns. The Burns Days festivities are a celebration of all things Burns - his life, poems and songs - and of course, all things which are embedded in Scottish Culture are present at the celebrations!

Traditionally, Burns Day (and Night) celebrations will include a dinner, accompanied by dancing, drinking, singing of Robert Burns songs and reciting of his poetry. One of the most recognised symbols of Scottish cultures, the Bag Pipes will be played and the national flower (and emblem) of Scotland, the beautiful vivid purple Thistle, will adorn the rooms. Toasts will be made to all the 'lads and lassies' in attendance and the national tipple of choice – Whisky - will be drunk!

The traditional food to eat at a Burns Day/Night celebration is Haggis. Haggis is a Scottish delicacy which is made from a mixture of beef and sheep organs – heart liver and lungs! Combined with another Scottish staple - oatmeal – and seasoned generously, the hearty mixture is cooked and presented in a sheep's stomach. Yummy!

It is traditional that Burns' most famous works are sung and recited during the festivities. The people of Scotland take great pride in their national hero and how his work touched many lives, especially those of the 'common people', whilst remaining true to the Scottish language and dialect! His most famous offerings are, Address To a Haggis (read during the dinner), A Red, Red Rose (said to have inspired Bob Dylan!), To a Mouse (which inspired John Steinbeck, the author of 'Of Mice and Men') and Auld Lange Syne (sung holding hands),which concludes the festivities!
Tags: Burns Day, haggis, whisky, sheeps stomoch, auld lange syne
Welcome to Flower Experts
Written for you by flower experts, giving you tips and advice on everything flower related. Read interesting flower facts and news.
Send Christmas Flowers
Latest News