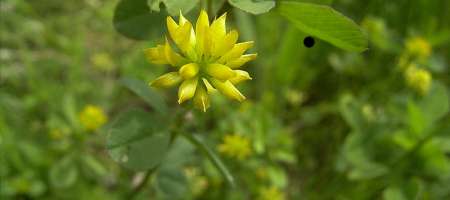 Shamrock facts
by Barry Marshall on March 17th
The shamrock is of great symbolic importance to the Republic of Ireland and its people. Indeed, the three-leafed clover is traditionally regarded as the most commonly used of all Irish symbols and, according to Jeanne Sheehy in The Rediscovery of Ireland's Past, the shamrock is "the most obvious" symbol of Ireland. Furthermore, Charles Nelson's Botany and History of an Irish Myth describes the evolution of the seamróg or little clover from a staple food source for the poor to a sentimental national emblem. Nelson further contends in his work that the shamrock was first worn on St. Patrick's Day in 1689 and became increasingly popular thereafter.

Nevertheless, it was not until Thomas Moore's ballad 'Oh the Shamrock', which was published in 1812, that the three-leafed clover was accepted as "the badge of Ireland and the Irish". Indeed, following Moore's ballad and increased usage over the centuries, the shamrock was adopted as the primary symbol of Ireland by the people, the Church and the State. Accordingly, the shamrock is now used as a registered trademark of the Government of Ireland and by the Northern Ireland Tourist Board. Unofficially, the shamrock is also used across Ireland by many different types of organisations, including schools, sports teams and Aer Lingus Ireland's premier aircraft fleet.

The shamrock also represents the Irish people as a whole, not just those who live in the country. Indeed, the flag of Montreal in Canada comprises a shamrock to represent the Irish population that constituted one of the four largest ethnic groups in the city when it was founded. The use of shamrocks in Irish culture is further extended to depict the Holy Trinity, so it can be seen as having both a significant cultural and spiritual value to the country and its people.
Welcome to Flower Experts
Written for you by flower experts, giving you tips and advice on everything flower related. Read interesting flower facts and news.
Send Christmas Flowers
Latest News